For Release: Contact: Jessica Lee
Publication date: 30th July 2013 020 7079 4900
www. yalebooks.co.uk jessica.lee@yaleup.co.uk
The history of one of the finest 17th century houses in Europe
HAM HOUSE
FOUR HUNDRED YEARS OF COLLECTING AND PATRONAGE
Edited by Christopher Rowell
Built in 1610 during the reign of James I and remodeled in 1637-9 by the future first Earl of
Read More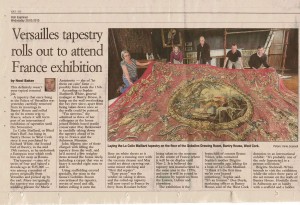 At the end of May I went over to Bantry House in County Cork to assist with the taking down and packing for transport of a lovely tapestry with a great story attached.  This 18th century tapestry was woven at Aubusson in France for Marie-Antoinette, possibly as a wedding gift by Louis XV. It is going on exhibition in the
Read More
The treatment of the last  of five wallhangings from Queen's Antechamber at Ham House, Surrey, was completed and the North Wallhanging was reinstated at the end of January. We have been working on this set for the National Trust since 2008 and
Read More
The Panacea Museum opened on 18 August 2012!
We have enjoyed being involved with the Panacea Society and preparing the textile collection for display, in particular Joanna Southcott's famous 'Cot' dating from 1814.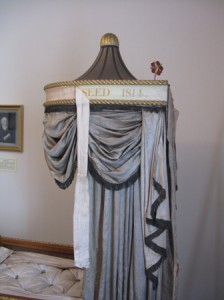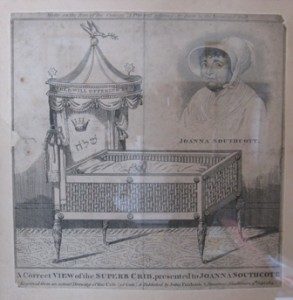 http://www.panacea-society.org/southcot.htm
This weekend we will have a stand at the Special Event at the lovely Little Hall in Lavenham, Suffolk, featuring Weavers, Artists and Printmakers as part of the Lavenham Arts Festival.
http://www.littlehall.org.uk/littlehall/documents/LittleHall2012.pdf
If you did not make it to this event, do please look out for future events at the Little Hall in Lavenham!
We are exhibiting at the forthcoming BrushStroke Art Exhibition, which is a Festival of Art in support of S.A.S. (Success After Stroke) from Monday 19th to Thursday 22nd March 2012 at St Peter's Church, Sudbury. Please  do visit the S.A.S. website for more information. The event was very well attended – here is May by her stand at the Opening: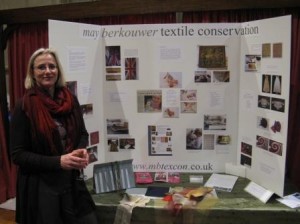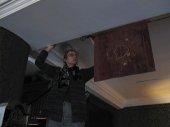 May had an enjoyable weekend at Bantry House, County Cork in Ireland. The purpose of the visit was to hand deliver the Standard, after conservation treatment, and assist with the re-instatement. Bantry Blog.
The Standard was fitted back on to its original pole in the Entrance Hall where it used to be, approximately 20 years ago. The photograph shows
Read More
In November May travelled to Brussels to give a presentation entitled A Forgotten Restoration – The 19th century restoration of the 17th century Queen's Antechamber Wall-hangings at Ham House at the BRK-APROA Colloquium 2011. A publication will follow in due course.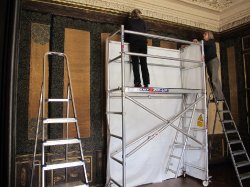 We have started on the final stage of conservation treatment of the Ham House wall hangings.  Yesterday May and Gerda along with National Trust conservators took down and packed the North Wall hanging.